Change Is Hard
Change Is Hard
Have you tried to change your habits or get back into gear? Isn't it hard? After our 2-week vacation I have had really hard time of getting back to routine of going for my meditative prayer walks at 6am. I managed to get up yesterday but missed this morning. Sigh.
Larry Lea has said "Everyone wants to change, but change demands desire and discipline before it becomes delightful. There is always the agony of choice before the promise of change."
Change is indeed hard. Change is so slow that we can't feel it while it is happening. Only when we look backwards we can see how far we have come. So meanwhile we just need to stick to the promise of change.
Change is even harder when it comes to our spiritual life. We can't make it happen on our own. But God can! The faster we surrender to God, the sooner the Holy Spirit can get into work in us. Hallesby has stated "Prayer is the risen Jesus coming in with His resurrection power, given free rein in our lives, and then using His authority to enter any situation and change things."
Even then the change is slow. We can't feel it while it is happening. Only by looking back we can see how far we have come. We just need to stick to the promises of God and keep on choosing what's right in God's eyes. Every little decision of ours bring us either closer to or further from God.
How can we then keep on choosing the good, the beautiful, the right? Only by God's grace. By surrendering to God day by day. By inviting the risen Jesus in with his resurrection power. By letting the Holy Spirit keep on working in us. Otherwise we don't have a chance. But grace is more than enough. Thanks be to God!
I pray that the God of our Lord Jesus Christ, the Father of glory, will give you a spirit of wisdom and revelation that makes God known to you. I pray that the eyes of your heart will have enough light to see what is the hope of God's call, what is the richness of God's glorious inheritance among believers, and what is the overwhelming greatness of God's power that is working among us believers. This power is conferred by the energy of God's powerful strength. (Eph. 1: 17-19, CEB)

I ask that he will strengthen you in your inner selves from the riches of his glory through the Spirit. I ask that Christ will live in your hearts through faith. As a result of having strong roots in love, I ask that you'll have the power to grasp love's width and length, height and depth, together with all believers. I ask that you'll know the love of Christ that is beyond knowledge so that you will be filled entirely with the fullness of God. (Eph. 3: 16-19, CEB)
Gracious God,
As you know,
change is hard.
We can' t do it.
But you can!
Give us your grace!
Use the resurrection power
to change us inside out!
Do with us what you want.
Just don't ever leave us.
In Jesus' name,
Amen
Q4U: How do you approach change? How is it going?
Be blessed, my fellow pilgrim, as you seek God and all the good things that flow from him!
Image courtesy of David Lindner. Linking up today with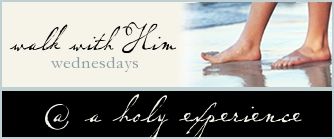 Pin It