Faith is a gift from God. When God reveals to us that Jesus is the Christ, the son of God, sent to save us, our eyes are opened. When we believe this and receive God's grace for ourselves, our whole existence gets a new meaning. The seed of faith starts growing in us and our faith journey begins. But it is only a beginning. Faith journey takes a lifetime.
The fundamental fact of existence is that this trust in God, this faith, is the firm foundation under everything that makes life worth living. It's our handle on what we can't see. (Hebrews 11:1, MSG)
Faith is not just a set of beliefs but an ongoing pilgrimage with Jesus. Faith is not just sentiments in our hearts and heads but bearing witness to Christ in practical life choices. Because faith is not faith if it's not lived out.
Faith is not faith if it's not practiced.
How do we do that?
By taking what we learn at church on Sunday and put it in practice on Monday. By trusting God and staking our lives on his promises. By praying in the midst of our troubles. By reading faithfully the word of God and basking in his presence. By being bold and following God's leading no matter how crazy it might look like. By showing compassion and letting God's light shine through us. By saying 'yes' for a life time of doing God's will.
Because when we live our lives by faith, God is changing us. We can't see the change but it is happening. Just like children grow up, also our faith seeds grow up into beautiful trees of faith.
Don't you just love seasoned Christians who ooze God's love and grace? That's exactly what happens when we live out our faith day by day. That's why our decisions matter. Every single one of them. That's why our actions matter. Every single one of them.
Dear friends, do you think you'll get anywhere in this if you learn all the right words but never do anything? Does merely talking about faith indicate that a person really has it? (James 2:14, MSG)
Talk really is just talk. We need to bring our faith into our every day lives. Because if we don't we will miss out on so much. Life is so much more than what we can see. And faith is our handle on what we can't see.
Only by faith we live fully.
Only by faith we are building a lasting life.
Only by faith we are growing in God's grace.
Gracious God,
Thank you for revealing us that Jesus is the Messiah.
Thank you for calling us to follow you closely.
Embrace us with your amazing grace.
Enable us to do your will every day of our lives.
Empower us to live out our faith day by day.
In Jesus' name,
Amen
Q4U: How do you live out your faith?
Be blessed, my fellow pilgrim, as you boldly practice what you believe!
Giving thanks today for
#741 faith is more than just a sentiment in our hearts and heads.
#742 faith is a gift from God
#743 faith is a lifestyle of doing God's will
#744 God wants to be in our everyday lives
#745 faith is not an abstract set of beliefs
#746 faith is God embracing us with his grace
#747 faith is a lifelong pilgrimage
#748 faith is lived out theology
#749 faith is empowered by the Holy Spirit
#750 faith is God's presence in our lives
~~~~~~~~~~~~~~~~~~
Image courtesy of Karina Lopez. Linking up today with Sharing His Beauty & Hear it on Sunday, Use it on Monday and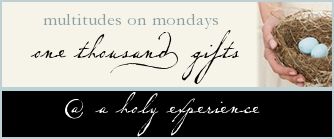 Pin It