Prayer Renews Our Strength
Prayer Renews Our Strength

Prayer is such an awesome gift for us. We just neglect it too often. We somehow don't believe enough in its power. But can we afford not to pray? I don't think so.
I have written a post about my reasons why I can not live without prayer. Prayer simply invites God into our lives. Hence prayer enables us to be human and leaves everything else to God. Prayer is also an antidote for anxiety and a power tool in God's kingdom.
The more we experience the power of prayer, the less likely we are to skip prayer. Yet we still do. But like C.H. Spurgeon states, "If you want that splendid power of prayer, you must remain in loving, living, lasting, conscious, practical, abiding union with the Lord Jesus Christ". Apart from Christ we are nothing and so are our prayers. We need Jesus in every possible way.
The good news is: the way has been cleared. Through Christ we do have a direct access to God in prayer. And because our God is almighty, sovereign, and powerful, we ought to pray big prayers. We should wait for good because our God is good.
Still need some motivation? Here's my latest discovery. I read about this book How God Changes Your Brain. Breakthrough Findings from a Leading Neuroscientist by Andy Newberg and Mark Robert Waldman. One of the breakthrough findings of their study was this: "Not only do prayer and spiritual practice reduce stress and anxiety, but just twelve minutes of meditation per day may slow down the aging process." I immediately thought of this Bible passage from Isaiah:
Don't you know? Haven't you heard?
The Lord is the everlasting God,
the creator of the ends of the earth.
He doesn't grow tired or weary.
His understanding is beyond human reach,
     giving power to the tired
and reviving the exhausted.
Youths will become tired and weary,
    young men will certainly stumble;
    but those who hope in the Lord
    will renew their strength;
    they will fly up on wings like eagles;
    they will run and not be tired;
    they will walk and not be weary.
(Isaiah 40:28-31, CEB)
Prayer renews our strength.
Prayer will keep us young in the spirit.
Prayer works wonders in us and through us.
And as a bonus it might even slow down the aging process.
When we abide in God, it is the everlasting God who is living in us. When we abide in Christ, it is the Light of the world who is shining through us. When we abide in the Holy Spirit, it is the love of God who is embracing us. Those who hope in the Lord, will indeed renew their strength. Thanks be to God!
Gracious God,
Thank you for loving us so much.
Thank you for the gift or prayer.
Thank you for wanting to abide in us.
Forgive us for skipping prayer.
Draw us more and more to you.
Increase the time we spend in prayer.
Enable us to see the power of prayer.
Strengthen us, renew us, restore us!
In Jesus' name,
Amen
Q4U: How is your prayer life? What the benefits of prayer for you?
Be blessed, my fellow pilgrim, as you pray and bask in God's presence!
Giving thanks today for
#861 God taking care of us in so many sweet ways
#862 God listens to our prayers
#862 God responds to our prayers
#864 God communicates intimately with us through prayer
#865 God is always there for us 24/7/365
#866 prayer renews our strength
#867 prayer empowers
#868 prayer enables
#869 God loves each and everyone of us
#870 God is more than we can imagine.
~~~~~~~~~~~~~~~~~~
Image courtesy of Daniel R. Linking up today with Sharing His Beauty & Hear it on Sunday, Use it on Monday and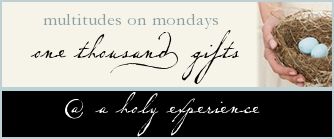 Pin It