The Holy Road Home
The Holy Road Home
Are you exhausted, ready to quit? Do you feel lost or weak? Are you tired of waiting? The darker it gets outside, the harder it is to believe that there is light, there is purpose, there is God.
Sometimes life seems like a desert. But no matter how we feel, God is real. No matter how things seem, there is hope. Sure, there are periods of time when God seems distant. Sure, there are periods of time when nothing happens in surface. Sure, there are periods of time when we need to be still. But that's not the end. That's not the whole picture. That's not the whole truth.
There will be a highway
    called the Holy Road.
No one rude or rebellious
    is permitted on this road.
It's for God's people exclusively—
    impossible to get lost on this road.
    Not even fools can get lost on it.
No lions on this road,
    no dangerous wild animals—
Nothing and no one dangerous or threatening.
    Only the redeemed will walk on it.
The people God has ransomed
    will come back on this road.
(Isaiah 35:8-9, MSG)
God is at work behind the scenes. When God appears, marvelous things happen. The desert bursts into life; there will be a highway in the desert leading us home. The God whom Isaiah saw is the same God today revealed in Jesus. The same God is saving, healing, and redeeming also today.
Whatever needs to be healed is going to be healed.
Whatever needs to be saved is going to be saved.
Whatever needs to be redeemed is going to be redeemed.
We have not been left alone here. Even if the whole world sings to that tune. When we meet God, everything changes. When we experience grace, our reaction will be pure joy. Even in the midst of hardships our heart sings to a completely different tune: God is real; God is powerful; God is marvelously wonderful.
Because God is with us and he will see that we will make it home.
God is here and not even fools can get lost on this holy highway.
God is among us and we are blessed as we follow Jesus on the holy road home.
They'll sing as they make their way home to Zion,
    unfading halos of joy encircling their heads,
Welcomed home with gifts of joy and gladness
    as all sorrows and sighs scurry into the night.
(Isaiah 35:10, MSG)

Gracious God,
We are empty, we are weak, we are tired.
Thank you for sending Jesus to lead us home,
to empower us on our pilgrimage.
Thank you for keeping us from getting lost.
Fill us with your hope and joy,
give us patience to wait for your timing.
Thank you for working behind the scenes.
Thank you for loving us more than we can ever know.
Enable us to extend your love and grace to others.
In Jesus' name,
Amen
Q4U: How do you deal with the desert episodes of your life?
Be blessed, my fellow pilgrim, as you travel on the Holy Road!
Giving thanks today for
#901 God does marvelous things.
#902 God is saving us in every way we need saving.
#902 God's love never quits.
#904 Jesus will guide us home to God.
#905 God is at work behind the scenes.
#906 Our hearts sing hallelujah.
#907 No matter how we feel, God is real.
#908 God will not quit.
#909 God is our hope and joy.
#910 It's not about our strength, God is with us.
~~~~~~~~~~~~~~~~~~
Image courtesy of James Cronin. Linking up today with Sharing His Beauty & Hear it on Sunday, Use it on Monday and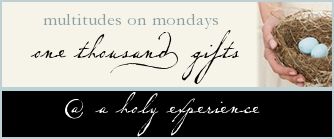 Pin It