How to Observe Holy Week
How to Observe Holy Week

Holy Week is here. How do you observe it?
During the Lent I've been fasting from sugary things, been praying on my knees daily, and been listening through the whole Bible. Has anything changed? Am I readier to Easter than otherwise? How should we observe Holy Week anyway?
I've enjoyed this Lenten journey. I've been surprised how good it has felt to surround me with the Word of God. I think I'm readier to quiet myself to listen what God has for me this Easter. I believe I am readier to walk with Jesus to Golgotha. I hope I'm readier to be still even when suffering is present.
I've stripped down all the decorations at our home. No candles, no flowers. This holy Week I try not to rush ahead to Easter. This Holy Week I want to be quiet with the Lord. This Holy Week I want to feel what Jesus felt.
Too often we are ready to take the gifts of Easter without dying on the cross. But without the cross we don't have Easter. And without Easter we are not truly alive.
I assure you that unless a grain of wheat falls into the earth and dies, it can only be a single seed. But if it dies, it bears much fruit. Those who love their lives will lose them, and those who hate their lives in this world will keep them forever. (John 12:24-25, CEB)
It is necessary to stick with Jesus through the dark hours of Holy week. It is necessary to see our sinfulness and see how Jesus suffered for our sake. It is necessary to die to the world to really live. Only then we can be ready to enter the Easter light and receive the eternal life offered to us in the resurrection of Jesus Christ.
How can we be ready for Easter? How should we observe Holy Week?
As always, ask God to personally guide you. But here are a few practical ideas:
1) Sit in silence with God.
2) Set aside extra time to pray.
3) Read the gospels or the passion stories.
4) Go to church.
5) Serve others.
6) Confess your sins, surrender to God.
7) Fast.
8) Wait until Saturday to decorate for Easter.
9) Bless others.
10) Love the Lord.
Dear God,
Enable us to find time to observe Holy Week.
Quiet our minds to be still and hear your voice.
Open our eyes to see the wonders of the passion story.
Thank you for sending Jesus to die for us.
We give our hearts to you.
We want to die with Jesus
and wait for the resurrection with him
We need you, Lord.
Amen
Q4U: How do you observe Holy Week?
Be blessed, my fellow pilgrim, as you follow Jesus to the cross and to the grave. Wait for Easter. The resurrection is on the way!
Image courtesy of Judy Barlett. Linking up today with Sharing His Beauty & Hear it on Sunday, Use it on Monday and counting blessings: #1011 God cared for us so much He sent His only son to die for us.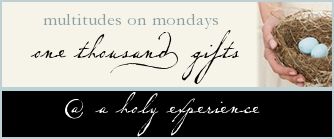 Pin It