No Foothold for the Devil
No Foothold for the Devil

We all know that we need fuel for our faith; we can't keep running on empty. We need to be filled with the Holy Spirit to live fully and love well. Our first and foremost need truly is to be filled with God. Everything else is pretty much details. But we can't ignore the enemy.
We are to live boldly. We are to be real people and have have real feelings. That means we are not strangers for anger, either. But the feeling itself is not bad, it can also bless us. But we need to know what to do and what not to do with it.
Go ahead and be angry. You do well to be angry—but don't use your anger as fuel for revenge. And don't stay angry. Don't go to bed angry. Don't give the Devil that kind of foothold in your life. (Eph. 4:26-27, MSG)
Anger can protect us and tell us what is wrong. But we can't turn our anger into aggressive actions. Anger can become fuel for revenge or rage but we need to keep out of that kind of behavior. Instead we can give our anger to God to be used for something beautiful.
We need to be fueled by the Holy Spirit. But we can't fuel the Devil with our anger or any other negative behavior or thought pattern. We can't give the Devil any foothold in our lives. Because the Devil always wants more and more of us. Hence no foothold for the Devil. Not even an inch.
The only way to stay clear from unforgiveness is Jesus.
The only way to live in love (and not in hate) is Jesus.
Don't grieve God. Don't break his heart. His Holy Spirit, moving and breathing in you, is the most intimate part of your life, making you fit for himself. Don't take such a gift for granted. (Eph. 4:30, MSG)
If we want to be God's very own, we need to guard our hearts from unforgiveness and hatred. Instead we need to fill ourselves with all the good things originating from God. We need to be fueled by the Holy Spirit which is the most intimate part of our life. Let's not take such a gift for granted. Let's praise God for his goodness and bring every part of our hearts and minds to God. Let's live fully in love and forgiveness. Just like Jesus taught us.
Gracious God,
We bring to you our unforgiving thoughts,
anger and resentment.
Change us, renew us, restore us.
Fill us with your Holy Spirit.
Make us every day more like you.
In Jesus' name,
Amen
Q4U: How do you handle anger? How do you live fully?
Be blessed, my fellow pilgrim, as you choose to live in forgiveness!
Photo courtesy of Lori MacMath, design by Mari-Anna Stålnacke. Linking up today with Sharing His Beauty & Hear it on Sunday, Use it on Mondayand counting blessings: #1017 Being filled with the Holy Spirit is the most intimate part of our lives.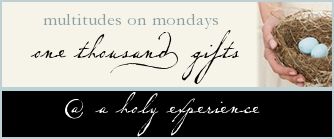 Pin It