Grace in the Wilderness
Grace in the Wilderness

Are you in a place where hope is in short supply? Are you about to lose your way? Are you struggling to survive? Take a deep breath.
No matter how dark your future looks like…
No matter how rough the wilderness around you is…
No matter how desperate you feel…
There's always grace. Even in the wilderness.
You might doubt it, especially when the circumstances speak otherwise. But with God anything is possible. With God we do find grace even in the wilderness.
Not because we are good but because God is so good.
Not because we deserve help but because God loves us so.
Not because of us but because of God.
The Lord proclaims:
The people who survived the sword
    found grace in the wilderness.
As Israel searched for a place of rest,
     the Lord appeared to them from a distance:
I have loved you with a love that lasts forever.
    And so with unfailing love,
        I have drawn you to myself.
Again, I will build you up,
    and you will be rebuilt, virgin Israel.
Again, you will play your tambourines
    and dance with joy.
(Jeremiah 31:2-4, CEB, emphasis added)
That grace in the wilderness was not just for the Israelites or for some saints in the past. God's grace is for you right now in your dark and desolate place. God's grace is new every morning. There's grace for every need and every place and every phase.
Because God loves us and shows it in his grace. That's why we can find grace even in the wilderness. We are never alone, even if we feel like it. God is with us and sustains us with his grace. When the Israelites were in the wilderness, they could not store up manna (except for Sundays). The same way we can't store up blessings or grace but we can be certain there will always be enough. Also in the wilderness.
Grace in the wilderness is very often unexpected grace. Something we could not come up with it even if we tried. God loves to surprise us and bless us with his persistent grace.
Next time when you find yourself in some sort of wilderness, start looking up. Pray expectantly. Be attentive to God's word. Wait for good because God is good. Wait for grace in the wilderness. Because the author of wild grace loves you and will never leave you nor forsake you. Especially not in the wilderness. He will build you up. And you will once again dance with joy.
Gracious God,
You are the author of life and love and grace
and all the good things.
Thank you for pouring out them on us.
Strengthen us when our path goes in the wilderness.
Give us our daily grace,
especially in the wilderness.
Thank you for always being there for us.
Give us an everlasting supply of hope.
In Jesus' name,
Amen
Q4U: Have you experienced grace in the wilderness?
Be blessed, my fellow pilgrim, as you expectantly wait for good because God is good!
Image courtesy of Joe Cavazos, design by Mari-Anna Stålnacke. Linking up today with Heart & Home, Unite the Bloggersphere, #tellhisstory and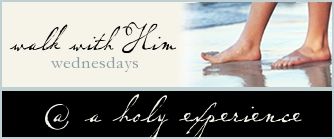 Pin It