I've always thought the Bible is valuable and precious. But the more I read it, the more I cherish it. The Bible is priceless. The salvation plan of God, which is revealed in the Bible, is beyond amazing. The Bible is a treasure map to God's heart.
Whatever was written in the past was written for our instruction so that we could have hope through endurance and through the encouragement of the scriptures. (Romans 15:4 ,CEB)
Spurgeon has said "Nobody ever outgrows Scripture; the book widens and deepens with our years." That is so true. The Bible is not just a book. The Bible is the living Word of God.
William Law warns us "Read whatever chapter of scripture you will, and be ever so delighted with it – yet it will leave you as poor, as empty and unchanged as it found you unless it has turned you wholly and solely to the Spirit of God, and brought you into full union with and dependence upon him."
The living word of God is a mystery. If we believe the Bible is God-initiated, it will change how we read it. Either we lose our interest in it or it becomes the most important read for us. When we read the Scriptures in the Spirit of God it shows us the way to salvation through faith in Christ Jesus.
Since childhood you have known the holy scriptures that help you to be wise in a way that leads to salvation through faith that is in Christ Jesus. Every scripture is inspired by God and is useful for teaching, for showing mistakes, for correcting, and for training character, so that the person who belongs to God can be equipped to do everything that is good. (2 Timothy 3:15-17, CEB)
Only the Holy Spirit can open the word of God for us. We need to read it prayerfully and allow the Holy Spirit to change us inside out according to the Word of God. The Bible does not only point us the way to salvation but it grows with us and keeps us Christ-centered on our faith journey. What a splendid gift of God!
Gracious God,
Be praised for your amazing salvation plan!
Be praised for giving us the Bible!
Draw us more and more into your Word.
Open it up for us like never before!
Change our lives according to your Word!
In Jesus' name,
Amen
~~~~~~~~~~~~~~~~~~
I've been asked to participate in the Common English Bible Blog tour and I have accepted the invitation. During the next three months I will mostly be using the Common English Bible (CEB) on my blog posts. Each week I will be giving away a copy of the Common English Bible softcover edition for one of the readers! Just leave a comment on any blog post this week. The winner will be announced on Monday!
There are more gifts for you! Consider to LIKE the CEB Facebook page http://facebook.com/LiveTheBible. When you do, you'll immediately be able to print beautiful calligraphy Bible verses!
~~~~~~~~~~~~~~~~~~
Q4U: How has your view of the Bible changed over the years? What are your Bible-reading habits?
Be blessed, my fellow pilgrim, as you emerge yourself deeper into the Living Word of God!
Giving thanks today for
#22 the Living Word of God!
#23 the different Bible translations
#24 the Children's Bibles
#25 the unchanging Word of God
#26 God's guidance
#27 God's TLC
#28 you!
Photo courtesy of Justin Knight. Linking up with Sharing His Beauty &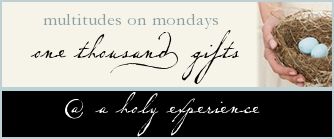 Bloggers: note a prayer blog hop "Weekend Prayer Wall" at Flowing Faith every weekend!