Waiting for God's guidance can be frustrating. God's timing is not ours and sometimes God is silent when we'd like to have some concrete tips on how to proceed. But just in times like this it is important to NOT to take matters on our own hands. This does not mean to be lazy. But it means we should not turn away from God and disobey him like Saul.
Saul died because he was unfaithful to the Lord and hadn't followed the Lord's word. He even consulted a medium for guidance. He didn't consult the Lord, so the Lord killed him and gave the kingdom to David, Jesse's son. (1 Chronicles 10: 13-14, CEB)
When God does not give us crystal clear answers, it sure is tempting to look elsewhere for reassurance that we are on the right track. But horoscopes won't help us. Nor worldly friends. But there are ways, even when God is silent, to know whether we are on the right path or not.
But the fruit of the Spirit is love, joy, peace, patience, kindness, goodness, faithfulness, gentleness, and self-control. There is no law against things like this. Those who belong to Christ Jesus have crucified self with its passions and its desires. If we live by the Spirit, let's follow the Spirit. (Gal. 5:22-25, CEB)
The Holy Spirit is the best guidance counselor. If we are not experiencing peace with our life choices, we can be certain something is wrong. If our life is not producing fruit of the Spirit we might be on the wrong track. It's important to note that we can't produce ourselves any fruit. But when we are living by the Spirit according to God's will, our life will be manifesting these qualities.
So whenever you find yourself praying for God's guidance and feel that there is no clear answer, prayerfully consider whether your choice will lead you closer or further from spiritual fruitfulness. God will not lead you into something that is against His Word. Keep on praying until you have peace. God will not leave you nor forsake you. God is with you even when you can't feel his presence. Abide in Him! And there will be fruit of the Spirit in due time.
Gracious God,
Thank you for the Holy Spirit.
Thank you for never leaving nor forsaking us.
Show us where we can serve you best.
Fill us with your Spirit!
Bless us according to our needs.
In Jesus' name,
Amen
Q4U: How do you get reassurance that you are on the right path?
Be blessed, my fellow pilgrim, as you seek God's will!
Giving thanks today for
#281 the work of the Holy Spirit in our lives
#282 the presence of the Holy Spirit in our lives
#283 invitation to work with the Lord
#284 invitation to interact with the Lord
#285 fruit of the Spirit in the lives of Christians
#286 God will not leave us nor forsake us.
#287 fellow brothers and sisters in Christ
#288 Jesus being alive
#289 God being active in our lives
#290 The Holy Spirit breathing life in us
~~~~~~~~~~~~~~~~~~
Do you want to win a copy of the Common English Bible softcover edition? Just leave a comment and mention that you'd like to win. The winners will be announced on Wednesdays! All these CEB giveaways are possible because I am participating in the Common English Bible Blog tour from Ash Wednesday all the way to Pentecost. This means that I will mostly be using the Common English Bible (CEB) on my blog posts. Let's check out this fresh new Bible translation!
~~~~~~~~~~~~~~~~~~
Image courtesy of Jo
Vanlandingham
. Linking up today with
Sharing His Beauty
&
Hear it on Sunday, Use it on Monday
&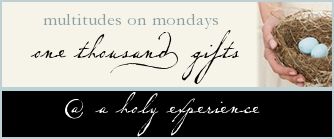 Pin It