Called by Name
Called by Name
Do you know that God knows you by name? To God you are not a nobody.  To God you are his beloved child. To God you are a very special person.
Hosea put it well:
I'll call nobodies and make them somebodies;
    I'll call the unloved and make them beloved.
In the place where they yelled out, "You're nobody!"
    they're calling you "God's living children."
Isaiah maintained this same emphasis:
If each grain of sand on the seashore were numbered
    and the sum labeled "chosen of God,"
They'd be numbers still, not names;
    salvation comes by personal selection.
God doesn't count us; he calls us by name.
    Arithmetic is not his focus.
(Romans 9: 25-26, MSG)
The Free Online Dictionary explains name as "a word or words by which an entity is designated and distinguished from others." As children of God we are special, we are personally known by God. I find it extremely uplifting to know that as a child of God I am known by name not by number.
But now, God's Message,
    the God who made you in the first place, Jacob,
    the One who got you started, Israel:
"Don't be afraid, I've redeemed you.
    I've called your name. You're mine.
When you're in over your head, I'll be there with you.
    When you're in rough waters, you will not go down.
When you're between a rock and a hard place,
    it won't be a dead end—
Because I am God, your personal God,
    The Holy of Israel, your Savior.
I paid a huge price for you:
    all of Egypt, with rich Cush and Seba thrown in!
That's how much you mean to me!
    That's how much I love you!
I'd sell off the whole world to get you back,
    trade the creation just for you.
(Isaiah 43:1-4, MSG)
All the promises in the Bible are made for each of us. Even if there were only one of us, God would have given his son to die for us. That's how much he loves us. We are called by name to have a personal relationship with God. We are treated according to our personal needs, not according to general rules. We are God's beloved children and he is our personal God.
Gracious God,
Thank you for reminding us of your amazing love.
Thank you for calling nobodies and making us somebodies.
Thank you for not counting us but calling us by name.
Thank you for wanting a personal relationship with each of us.
Thank you for treading us according to our needs,
not according to general rules.
We want to receive your love and grace.
Change us and use us according to your plans.
In Jesus' name,
Amen
Q4U: How do you feel about God calling you by name?
Be blessed, my fellow pilgrim, as you receive God's personal love and care for you!
Giving thanks today for
#931 God knows me by name.
#932 I am special in God's eyes.
#933 God's love opens me to receive his grace.
#934 God does not count us but calls us by name.
#935 God wants to be intimately involved in our lives.
#936 God makes somebodies out of nobodies.
#937 As God's children we are distinguished from the world.
#938 God has a specific plan for each of us.
#939 God treats us personally.
#940 God just wants us to receive his love and care.
~~~~~~~~~~~~~~~~~~
Photo courtesy of Marcus Williamson. This post was refurbished from 2010. Linking up today with Linking up today with What's on Your Heart Tuesdays, Wordfilled Wednesday, All Things Heart & Home ,God-Bumps and God-incidences ,Work in Progress, One Word at a Time: Name Blog Carnival, and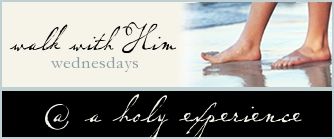 Pin It