The Good News for the Imperfect
The Good News for the Imperfect
Have you messed up? Don't you measure up? Are you tired and at the end of your rope? I have good news for you! That's exactly why God sent Jesus into the world. Because we do mess up. Because we don't measure up. Because we are imperfect. Because we can't make it alone.
"Or, you may fall on your knees and pray—to God's delight!
    You'll see God's smile and celebrate,
    finding yourself set right with God.
You'll sing God's praises to everyone you meet,
    testifying, 'I messed up my life—
    and let me tell you, it wasn't worth it.
But God stepped in and saved me from certain death.
    I'm alive again! Once more I see the light!'
"This is the way God works.
    Over and over again
He pulls our souls back from certain destruction
    so we'll see the light—and live in the light!
(Job 33: 26-30, MSG)
The good news for the imperfect is: we don't have to make it alone. We don't have to measure up. We don't have to be perfect in order to be loved by God.
Because God has made everything ready for us in Jesus. God can help us today and God will be with us until the end of the world.
With the arrival of Jesus, the Messiah, that fateful dilemma is resolved. Those who enter into Christ's being-here-for-us no longer have to live under a continuous, low-lying black cloud. A new power is in operation. The Spirit of life in Christ, like a strong wind, has magnificently cleared the air, freeing you from a fated lifetime of brutal tyranny at the hands of sin and death. God went for the jugular when he sent his own Son. He didn't deal with the problem as something remote and unimportant. In his Son, Jesus, he personally took on the human condition, entered the disordered mess of struggling humanity in order to set it right once and for all. The law code, weakened as it always was by fractured human nature, could never have done that. (Romans 8:1-4, MSG)
The arrival of Jesus changed everything. Jesus is the way out of our messes. When we confess our sins and ask for forgiveness, we are forgiven. Because Jesus carried our sins on the cross and God rose him from death on the third day.
That's why we worship God for sending Jesus for us.
That's why we wait for Jesus to be born again and again in our hearts.
That's why we rejoice in the Spirit of God living in us.
We really don't have to make it alone. Christ comes alongside us. I Grace enables us to receive help and extend help to others. We are saved only by grace through faith in Jesus.
Hence …rest in God's grace.
Rejoice …all is done!
Gracious God,
We thank you and we praise you
…for sending us Jesus.
…for embracing us as your children.
…for pouring out grace upon grace.
…for making us alive.
…for enabling us to receive help.
…for empowering us to extend grace to others.
In Jesus' name,
Amen
Q4U: How does God's grace affect your life?
Be blessed, my fellow pilgrim, as you rest in God's grace in the midst of the everyday chaos!
Giving thanks today for
#941 We don't have to make it alone.
#942 We don't have to be perfect.
#942 Jesus came to make us fully alive.
#944 Jesus is the way to receive help.
#945 Jesus is the way out of my messes.
#946 Jesus is the power to reach out to others.
#947 Jesus is he answer to all of my troubles.
#948 As God's beloved children we can rest in his grace.
#949 the arrival of Jesus changed everything.
#950 Jesus brings life and more life.
~~~~~~~~~~~~~~~~~~
Image courtesy of Kelly Sikkema. Linking up today with Sharing His Beauty & Hear it on Sunday, Use it on Monday and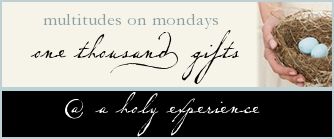 Pin It