Why Was Jesus Baptized?
Why Was Jesus Baptized?

Have you ever wondered why Jesus was baptized? John the Baptist had been called people to repent. But Jesus was sinless, right? Why did he get baptized? Why did John the Baptist baptize Jesus?
Jesus then appeared, arriving at the Jordan River from Galilee. He wanted John to baptize him. John objected, "I'm the one who needs to be baptized, not you!" But Jesus insisted. "Do it. God's work, putting things right all these centuries, is coming together right now in this baptism." So John did it. The moment Jesus came up out of the baptismal waters, the skies opened up and he saw God's Spirit—it looked like a dove—descending and landing on him. And along with the Spirit, a voice: "This is my Son, chosen and marked by my love, delight of my life." (Matthew 3:13-17, MSG, emphasis added)
The baptism of Jesus was part of God's salvation plan. Jesus was sinless and he did not need repentance. But he did it for us. When Jesus surrendered to God's will and got baptized he took the sins of the world on him. This baptism started the process to the cross.
Christ himself suffered on account of sins, once for all, the righteous one on behalf of the unrighteous. He did this in order to bring you into the presence of God. Christ was put to death as a human, but made alive by the Spirit. (1 Peter 3:18, CEB)
Jesus was baptized for the same reason he went to the cross.
So we would know how much God loves us.
That we could be made alive by the Holy Spirit.
God indeed went to great lengths to bring us into his presence.
And God still goes to great lengths to get our attention.
No matter what God will not give up on us.
No matter what God will love us.
Let's not keep him waiting on us!
Let's run to Him!
Gracious God,
Forgive us!
We don't deserve you.
But we receive your grave with gratitude.
Make us alive by your Spirit!
Keep us alive by your Spirit!
In Jesus' name,
Amen
Q4U: The baptism of Jesus changed everything. Has Jesus changed everything in your life?
Be blessed, my fellow pilgrim, as you claim the grace of Christ to be yours!
Image courtesy of ochristian.com. Linking up today with Sharing His Beauty & Hear it on Sunday, Use it on Monday and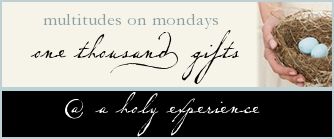 Pin It