God Cares for You
God Cares for You

Sheep are mentioned in the Bible more than five hundred times. Also Jesus talked about sheep many times:
Now when Jesus saw the crowds, he had compassion for them because they were troubled and helpless, like sheep without a shepherd (Matthew 9:36, CEB).
"My sheep listen to my voice. I know them and they follow me" (John 10:27, CEB).
These verses show us that Jesus was familiar with this passage from Ezekiel:  "'God, the Master, says: From now on, I myself am the shepherd. I'm going looking for them. As shepherds go after their flocks when they get scattered, I'm going after my sheep. I'll rescue them from all the places they've been scattered to in the storms. I'll bring them back from foreign peoples, gather them from foreign countries, and bring them back to their home country. I'll feed them on the mountains of Israel, along the streams, among their own people. I'll lead them into lush pasture so they can roam the mountain pastures of Israel, graze at leisure, feed in the rich pastures on the mountains of Israel. And I myself will be the shepherd of my sheep. I myself will make sure they get plenty of rest. I'll go after the lost, I'll collect the strays, I'll doctor the injured, I'll build up the weak ones and oversee the strong ones so they're not exploited. (Ezekiel 34:11-16, MSG)

This was clearly an important passage to Jesus and hence…shouldn't it be important to us? What's so amazing about this anyway?
It shows us a very compassionate God. There's nothing God would not do for his sheep to take care of them. God himself is our shepherd. A truly caring one.
God sees our troubles and weaknesses. Yet her cares for us. God knows we are needy and helpless. Yet he seeks us and wants to help us. God sees  and loves not only the perfect and strong ones but also the crippled and unsteady ones. God gives each of us what we need. There is no one-size-fits-all treatment. God sees us individually, not just our appearances but our very soul.
We are beautifully, fearfully and wonderfully made. We are unique and special in God's eyes. We are valued and wanted. We matter to God. And that's why he will continue to seek and care for each of us. So no one would be without his tender loving care. No one will be forgotten. God goes after the lost, the strays, the injured. He will build up the weak ones and guide the strong ones. God tailors tender loving care according to our individual needs. How fabulous!
God sees me as I am.
God cares for me as I need to be cared for.
God loves me as if I were the only child of his.
Doesn't it make you feel safe to have such a compassionate and loving shepherd? Our value does not come from our salary or looks or degrees. Our value comes from the Lord. Praise God! His love will endure forever!
Gracious God,
We come to you in awe of your love and compassion towards us.
Thank you that we matter to you.
Thank you for personally taking care each and everyone of us.
Thank you that you will not give up on anyone.
Thank you for making us feel safe.
Thank you for healing us and guiding us home.
In Jesus' name,
Amen
Q4U: How has God shepherd you?
Be blessed, my fellow pilgrim, as you follow Jesus the Shepherd!
Photo courtesy of Sharon Marta, design by Mari-Anna Stålnacke. Linking up today with Sharing His Beauty & Hear it on Sunday, Use it on Monday and counting blessings: #1016 God cares for us individually.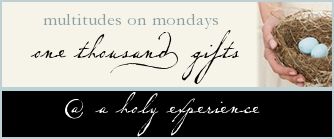 Pin It